Essen Spiel 23
Welcome to Encounter Depot
Thanks for stopping by.
Encounter Depot is the place to get great material for your D&D or fantasy roleplaying game. I plan to fill it with interesting traps, poisons, new rules, reviews, maps  – also battle maps, npc's, magic items and what-not. A lot of that will be put into the monthly magazines, and some will be put on the site. 
Get my first magazine for free here:
AND get more goodies if you sign up for my newsletter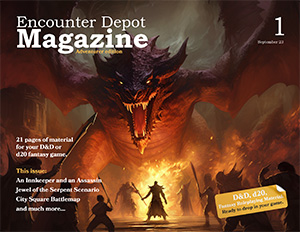 The newsletter comes out about 1-2 times a month, and I don't share your e-mail, I hate spam too. 
Enjoy your stay – hope you come back 
Jesper – Shop Proprietor